Lancashire County Council
Agreement Type:
| | |
| --- | --- |
| | Allowed |
Landowner
Negotiator
Dave Edwards (The Wombles)

Start Date
N/A
Renewal Date
N/A
Description
Geocaches may be placed on Countryside sides in accordance with the following arrangements.

Caches may be placed at the 23 countryside locations specified on Leisure and Culture page.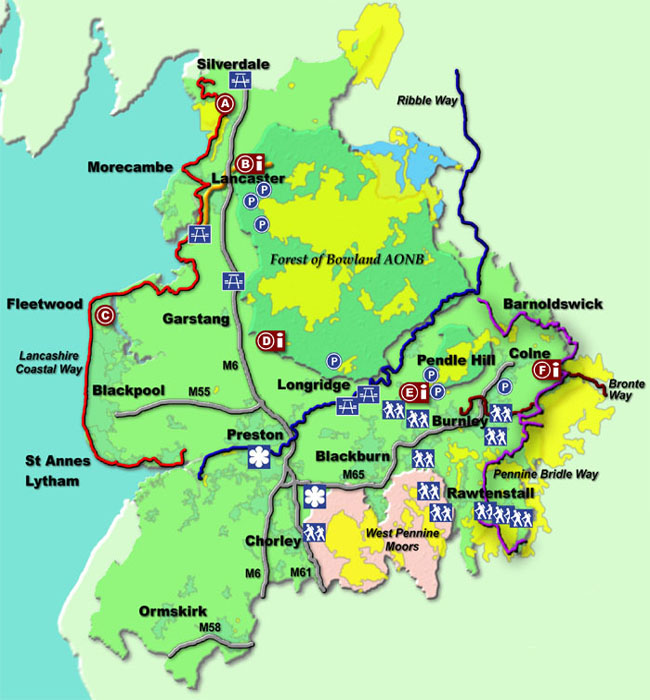 Except:
Preston Junction Local Nature Reserve
Brandwood Quarry
Facit Quarries
Withnell Fold LNR
Beacon Fell *
Clougha Access Area
Fairsnape
Saddle and Wolf Fell
In addition, permission from the relevant landowner will be necessary for Lancashire Coastal Way, Ribble Way and Bronte Way which are largely not owned by LCC.
A number of these sites are car parks and it is expected that only a micro cache eg 35mm canister would be appropriate at most of these locations.
* Whilst no further geocaches are permitted at Beacon Fell as of 22/5/05, it is recognised that existing caches are in place at this location. Retrospective permission is likely for these caches provided that these requirements followed, including provision of location details specified below.
Caches may be placed at the specified locations and then a map and/or directions are to be emailed to the
Head Ranger
as above. It may be necessary for caches to be subsequently moved if it is found that the cache has been placed somewhere inappropriate. Please note that emailed details must be standalone and not rely on internet links since internet access may not be available.
Some of these locations have hazardous areas such as cliff drops and therefore all signage must be strictly observed.
All caches are to follow the
GAGB guidelines
as rules including contact information on the outside of the cache.
Area Covered
England/Lancashire.
Last Modified
1st Apr 2021.
Feedback
Do you have any feedback about this agreement? Click here to submit feedback to the committee.