GAGB Membership
Why Should you Become a GAGB Member?
Whilst the GAGB provides support to everyone who seeks it, we offer several benefits to our members. We have a large membership and happily welcome and encourage you to join the GAGB for free.
These are the main benefits:
Member Discounts
On geocaching supplies, books and outdoor equipment, almost all of the online geocaching suppliers based in the UK offer discounts to GAGB members, as do some major outdoors retailers.
Seeker E-Magazine
Our popular e-magazine is available to all our members several weeks before we publish it on our website. New issues are easy to miss without the notifications provided to our members.
Access the Member Forum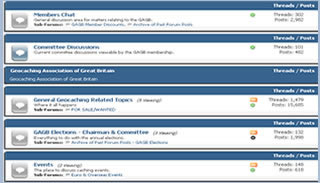 View and post on a board on our forum that's exclusive to GAGB members. Ask for help and advice from our members and search the forum for lots of information.
Nominate, Stand and Vote in Annual GAGB Elections
Know someone who would make a good GAGB committee member? Think you'd be great? Want to vote for cachers to represent you on the committee? Then become a member! Use your membership to influence the work and direction of the GAGB and, in turn, the development of geocaching in the UK!
Support the GAGB
GAGB is a member-led organisation. Become active, join in, help the GAGB to do what you want it to do! Our members are crucial to the existence and success of the GAGB's work (find out more about what we do here) - we greatly appreciate your support.
Convinced? We hope so!

Become a member join here. It's free.
You can check if you are already a GAGB member by visiting here.
Follow us on Social Media