Emergency SMS Text Service
If you are unable make a voice call, you can now contact the 999 emergency services by SMS text from your mobile phone. This could be particularly useful for anybody needing 999 assistance in the hills or remote areas when mobile reception is poor and there is insufficient signal to make a call.
To Set up this Service.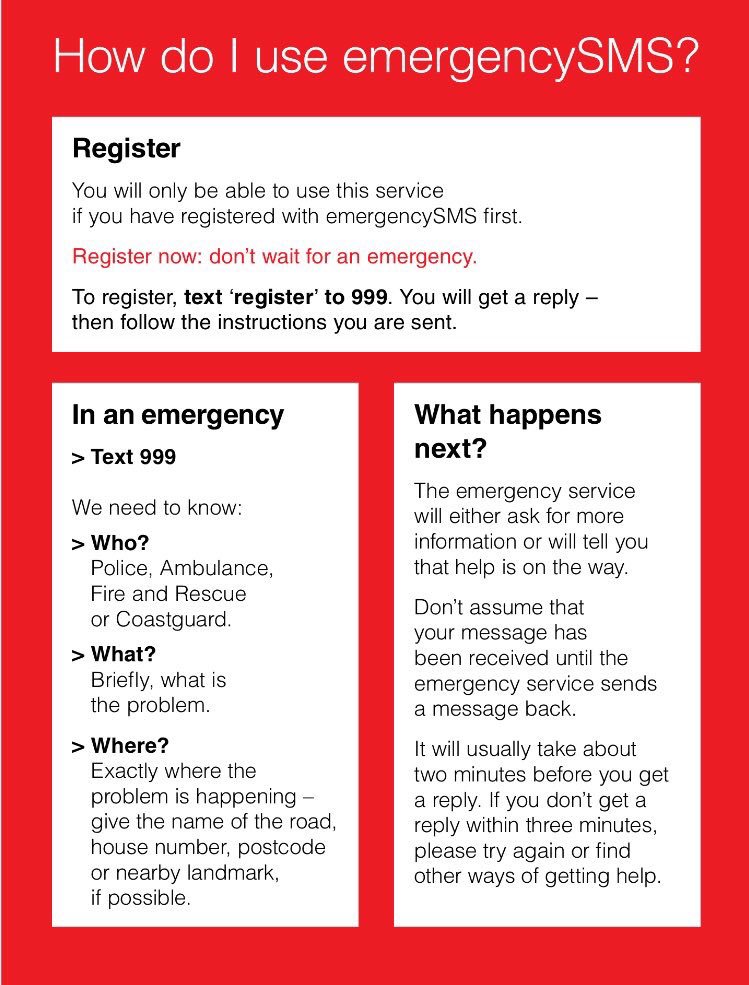 Register your mobile


Text the word 'register' to 999.

Read the message


You'll get an automatic text reply. Please read it all.

Reply to the message


Reply by texting 'yes'.

Get a 'success' text


You'll then get a text telling you that your mobile is now registered - or if there has been a problem.

Check it
Text 'register' to 999 and you'll get a message telling you if it is registered. Don't text anything else - there's no need to make a test call. You are now set up.
Can't register


If you try to register but don't get the 'success' text, check with your mobile provider to make sure they support the emergencySMS service.
Set up your Mobile now
Don't leave it until you need it, that's too late. Do it now so you're ready, just in case.
In an emergency, we suggest you use emergencySMS to contact the emergency services only if you've no other option. This is because it will take longer than the standard voice 999 service or the Text Relay 18000 service.
What to put in your Text?
The service you need: ambulance, police, fire or coastguard.
What's the emergency?
Where's the emergency? Be precise, including the name of the road and town and, if possible, more details like the house number or nearby landmarks or main roads.
Example of a good Text
"Ambulance. Man having a heart attack. Outside Nibbles Pizza. Glossop Road Sheffield S10"
Be as accurate as possible when giving the location. The better your information, the faster the emergency services will be able to send help.
Send the Message to 999
The emergency service will reply to you either asking for more information or telling you that help is on the way.
Make sure 999 gets the Message
Don't assume that your message has been delivered until you get a reply. A text delivery report doesn't mean your message has been received by the emergency service.
It can take a couple of minutes to get a reply. If you haven't received one, call 18000 (if you're able to) or, if possible, ask someone to call 999 for you.
To find out more about this service and how to register click here. You must register before using this service.
what3words
What3words has divided the globe into 3m squares and given each one a unique 3 word address. It means everywhere can be located with just three words. For example ///kite.chats.dine will take you to a precise spot in a field next to the River Ouse in York.
3 word addresses are easy to say and share, and are as accurate as GPS coordinates.
What3words is available as a free app for iOS and Android and online map at map.what3words.com. You can find out more about what3words here.
How do I use what3words in an Emergency?
Find the 3 word address for your current location on the free what3words app for iOS and Android. It works offline – ideal for areas with unreliable data connection.
Share your 3 word address over the phone to the call handler.
The emergency service can then coordinate a response directly to the exact location where help is needed.