Since 2014, our Annual CITO Weekend has gone from strength to strength, with a cumulative total of 52 events and 804 'Attended' logs. This year, it's time for a change - get ready for GAGB CITO Week, beginning on Saturday September 14th and ending on Sunday September 22nd. That's nine full days! We encourage you to organise a CITO for GAGB CITO Week. Two profile badges are up for grabs - one for organisers, and another for attendees. In addition, as it falls within Groundspeak's autumn CITO season, attendees will also obtain an official souvenir. Let's smash some records and make this the UK's biggest CITO Week ever!
CITO events take longer to organise than you might imagine, so make sure you start early. Plenty of tips and more information can be found here.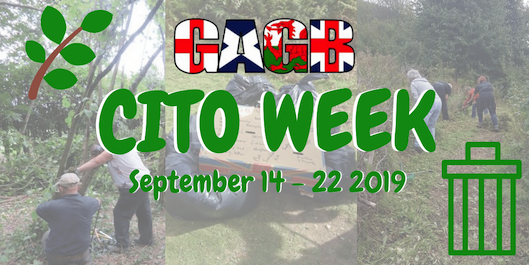 The GAGB committee are happy to provide help and advice if you need it - just get in touch.